Credit Card Deals for You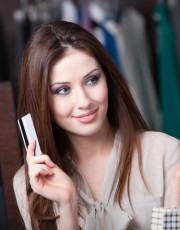 By Curtis Arnold & Shane Tripcony updated on September 17, 2014
This page is for the credit card shopper that is looking for "one of those credit card deals." Well, you found the page. There are a lot of different credit cards for consumers to choose from. If you were looking on your own for the best card, you could spend a lot of time reviewing different credit card offers either ones that come through the mail or ones you can search for online. We hope to help save you some time and find the best card for you.
A credit card can be looked at as a financial tool. And like for any job or project, there are some tools that are better to use than others. For example, you would not want to use a screwdriver to pound a nail into the wall. You would want a hammer for that because that is the right tool for the job. Although more nuanced, the same can be said for using the different features and rewards of credit cards for your financial benefit.
It's true, there are a lot of different cards out there, but finding the right one is not all that difficult if you know what to look for. Look below for some tips on what to look for to find your best card. If you are looking to build your credit, take a look at some of our credit building cards.

Advertising Disclaimer: The owners of BestPrepaidDebitCards.com do receive compensation from advertisers. Apply Now links are paid for links and can generate revenue for the website.
Tips on What to Look For in Your Next Credit Card
Annual Fee – Does the card have an annual fee? If so, is it held back for a while, or is it refunded if a certain spending threshold has been met? Or, it's even better if there is "No Annual Fee" (but still has the other features and rewards you are looking for, of course.)
Intererest Rate – What is the annual APR of the card? The lower the better if you carry a balance.
Is there a Balance Transfer benefit? – Many cards offer 0% APR for up to 12 or 18 months or some other rate and time bonus for consumers. If you already have a balance that you want to transfer, if you can realize some savings over your current card, this is feature that will be important to you.
Are you interested in getting travel savings, cash back or hotel savings? There are cards for all of those different savings plans. There are some great travel cards out there that will help you save on planned vacations. The cash back cards can offer you a return over time that can really pay off the more you use your card. Watch out for special deals in areas that you can get bonus % cash back for certain spending categories such as cash, groceries and restaurants.
What types of penalties and fees are there on the card? This could be something to look into. Although not much fun, it never hurts to look at the fine print. We do try to take some of that off your plate via our editorial reviews and star ratings.
Each person shopping for a card has their own unique wants and needs in a credit card. We hope to help point you in the right direction and help you find the best credit card deals.
Summary
Reviewer
Review Date
Reviewed Item
Author Rating