Best Cash Back Rewards Credit Cards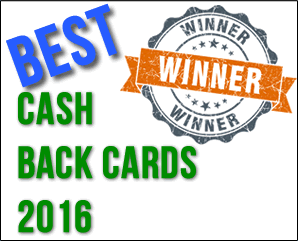 Here's our take on some of the best cash back cards for 2016. This page is in the works and we will be adding to it, so check back later as we update this page.
In the mean time, visit this article for more details.
OVERALL WINNERS
Citi Double Cash Back Card
Editor's Note: The Citi Double Cash Back Card is as straightforward as it gets. It offers the top rewards for a flat-rate card and its simplicity makes it a winner. You simply get 2 percent cash back for everything you buy. There are no categories to worry about, no annual fees and no spending limits. Basically, this card symbolizes cash back simplified.
A Closer Look: The Citi Double Cash Back Card offers a 0 percent introductory APR for the first 15 months. You also get a waived late fee on your first missed payment (which you hopefully won't have to use) and your Equifax score is included on every statement. The only downside is you don't get the entire 2 percent reward right away. You receive 1 percent upon purchase and the other 1 percent after paying your bill. Click here for more information and easily apply from our partner site.
Chase Freedom
Editor's Note: A frequent favorite among cash back enthusiasts, Chase Freedom allows you to get 5 percent cash back across different categories that rotate quarterly. For example, one quarter may be 5 percent cash back on gas and the next quarter may be 5 percent cash back on retail purchases. By paying attention and spending strategically, you'll be able to get some serious bang for your buck with this card.
A Closer Look: Unfortunately, the 5 percent cash back isn't unlimited. You'll have to stay within a $1,500 spending cap. Still, these rewards are higher than most. Once you reach the cap, you'll receive 1 percent back on every purchase. You can also earn a $150 cash bonus when you spend $500 or more in the first three months after opening an account. You can also earn an additional $25 by adding an authorized user. There's also no annual fee and the points don't expire as long as your account remains active.
BankAmericard Cash Rewards
Editor's Note: BankAmericard Cash Rewards has some very rich cash back features. It also has the benefit of being straightforward. You get 3 percent cash back on gas and 2 percent cash back at grocery stores for the first $1500 you spend each quarter. You also get 1 percent cash back on every other purchase and there's no annual fee.
A Closer Look: The BankAmericard also gives a 10 percent bonus when Bank of America customers deposit their rewards into their accounts. If you are a Bank of America Preferred Rewards client and maintain an average banking and/or investment account balance of $20K to $100K+, you can receive a bonus of 25% to 75%.
Visit this article for more of the best cash back cards for 2016.
HOW TO CHOOSE A CASH BACK REWARDS CARD
Deciding which is the best cash back rewards card for you depends entirely on how you spend your money. For example, if you spend a lot on groceries then you'll likely want a card that gives you the best rewards for groceries. You'll also want to take your goals into consideration. For example, is travel a big part of your life, or are you planning and saving for an upcoming trip? Then you may want to consider a cash back card that allows you to use points for travel.
Other things to consider include fees. Each card comes with a different list of fees, so make sure to read the terms of service before applying.
You'll also want to know whether you qualify for a card before applying. Applying and getting rejected for too many cards at once can seriously harm your credit score. Make sure you're realistic when applying and that your credit score is good enough to qualify for the card.
You'll find three types of cash back rewards, in the order of ease of use:
Unlimited cash back – This is by far the simplest form. Unfortunately, you usually won't find the very highest 5%+ rewards this way, but you can find some great cards that get you 2-3% or more in some popular categories.
Cash back with limits – This is more commonly found for the higher percentage back offers. Basically, this is where a card limits the cash back you can earn by putting a cap on the spending which earns the cash back. Limits are found in one or more specific categories or the card as a whole.
Quarterly rotating categories – These are the cards with the brightly advertised 5% rates. It's easy to fall for attractive offers such as these. Who wouldn't want 5% back? Here's where you read the fine print. Although you can earn the 5% rate, it may take some work on your part. Instead of automatically getting the higher rate, you may have to opt in to categories each quarter manually. Of course, there will be limits at this rate and you can max out this rate and then drop to a lower rate.
LOOKING AT THE OPTIONS
There are always options, personal desires and values to consider in choosing the cash back card that works the best for you and your particular situation. There are a number of great cards that are offered nationally and there just may be some great cards offered locally that you have not considered. Take a look at some of the cards we have recommended here and click here to get some great tips on earning more rewards and making your card work better for you.
WHAT WORKS FOR US
Our team believes that credit card choices have a lot to do with individual preference, lifestyle and goals. Everyone is different and there is a card for each of you. Some people on our team stick to using points for travel and others trade them in for cash. They both work just fine.
OUR RATINGS SYSTEM
When reviewing these cards, we do our best to put ourselves in the consumers' shoes. We choose cards based on (lack of) fees, rewards and ease of use. In other words, if we wouldn't use these cards ourselves, we wouldn't recommend them. In fact, we do actually use these cards in our own lives.