Walmart To Offer AmEx Serve Cards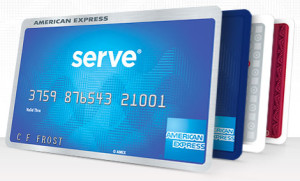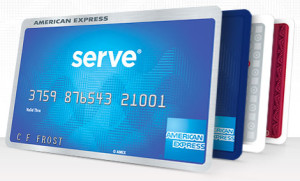 In October of 2012 American Express and Walmart teamed up to launch Bluebird, a low-fee card meant to attract people unhappy with traditional checking and debit account fees. On April 21st of this year, Walmart and AmEx announced that they were joining forces again, this time to make the American Express Serve prepaid card available for sale at 4,100 of the retailer's stores nationwide. The card will cost $1.95 and be sold at checkout lines and in Walmart MoneyCenters.
This announcement instantly gives AmEx an attractive bragging point in the increasingly competitive prepaid debit card industry. By making Serve available at thousands of Walmarts, AmEx has has created the largest free cash reload network in America. In addition to Walmart, it is now possible for Serve customers to add cash to their Serve accounts for no charge at 19,500 locations, including CVS pharmacies and 7-Eleven locations.
Customers can now go to the cash register at any of those locations and add as little as $20 or as much as $500 to their Serve accounts. This ubiquity is important, says Madeline Aufseeser, a senior analyst at Aite Group. "American Express Serve is making it even more convenient for consumers to add cash to their accounts so they can use those funds to quickly and easily manage their personal finances," she says.
This expansion of Serve is just the latest effort by AmEx to better serve the millions of so-called "unbanked" or "underbanked" Americans, who either don't have a traditional bank account or are unhappy with what they do have. "By offering American Express Serve alongside Bluebird at Walmart, we're expanding our portfolio of products to meet the needs of more Walmart shoppers," says Dan Schulman, group president of Enterprise Growth at American Express. "Bluebird is a great option for the "unhappily banked" who are looking for a true alternative to the fees and hidden charges often associated with debit and checking. With Serve, our full service reloadable prepaid account, we can now provide the nearly 70 million Americans who are unbanked or underbanked a simple and affordable way to move and manage their money."
To go along with its expansion of the availability of Serve cards, AmEx is also launching an advertising campaign to highlight the benefits of its signature prepaid product. The TV ads are shot in a documentary style and are meant to highlight the struggles regular Americans who are either ignored or underserved by the traditional banking system face to make simple financial transactions.