The Occupy Prepaid Debit Card Announces Fees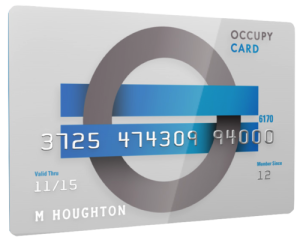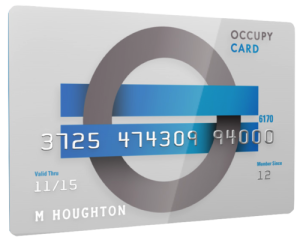 In an announcement that was equal parts press release, fundraiser and call to arms, the Occupy Money Cooperative unveiled fees for its new prepaid debit card.
by Chris Warren
The Occupy Movement marked the second anniversary of its Wall Street occupation in a way that few would have expected when thousands took to the streets of New York to express their unhappiness with what they declared to be a rigged financial system: by asking members of the 99% for money and releasing proposed fees for its very own prepaid debit card. On Sept. 16 the so-called Occupy Money Cooperative, an entity formed last July to offer financial products and services, officially launched a fundraising campaign to raise enough capital to become an actual player in the financial services industry so many Occupy supporters loathe.
"It's finally time!" declared a mass email to Occupy supporters on Sept. 13. "We are launching a crowd-funding campaign to kick-start an innovative, democratic, transparent and cooperatively-run company to provide access to low-cost, high-quality financial services to everyone." Raising sufficient start-up capital to actually be able to issue a prepaid debit card, let alone any other products and services, is just the first of many hurdles the Occupy Money Cooperative will face – an issue we examined in detail earlier.
Challenges aside, Occupy's foray into the prepaid debit card space – with the group's avowed commitment to not maximize revenues and profits – has the potential to shake-up the industry. That possibility was buttressed when details about the Occupy Card, which will be covered by Federal Deposit Insurance Corporation (FDIC) insurance, and its fees were released just days before the group began its fundraising efforts.
To get a sense of just how different the Occupy Card's approach to business is from other prepaid card issuers all one has to do is note the inclusion of a box called "How To Avoid" on its proposed fee schedule. If that's not enough, take a look at the proposed rock-bottom fees themselves. For instance, there is no initial purchase charge for the card, a fee that usually runs an average of $1.15. More importantly, the monthly fee for the Occupy Card is just $0.99 – and there's no charge if you load enough money onto the card to become a No Monthly Charge Member – compared to the average monthly fee of $4.88.
It's also free to load money onto the card via direct deposit – which is standard among the more consumer-friendly prepaid cards – although adding cash using MoneyPak or Swipe Reload at 7-Eleven and CVS stores costs $4.95, (a fee charged by the stores and not the Occupy Money Cooperative). To get around this charge, the fee schedule offers up this tip. "If you can, use Direct Deposit, or deposit checks and wait – these methods are FREE. When using MoneyPaks remember 3 $100 deposits will cost $14.85. A single deposit of $300 will cost $4.95." And so it goes with the other fees. Getting cash from an ATM will run $1.95 due to network and third party fees ("Instead, use cash back from stores," advise the Occupy Card issuers).
Not all fees can be avoided. For instance, a card replacement runs $9.95 because it requires printing a new one (advice: "don't lose your card"). Still, if the Occupy Card gains traction, it very well could change the financial services industry in a way that sit-ins and marches never could.