The Occupy Card Moves Ahead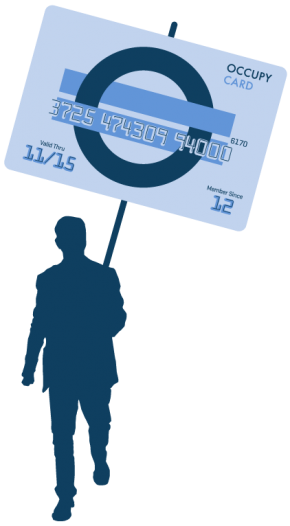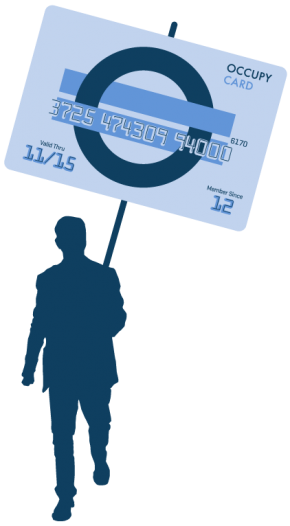 The Occupy Money Cooperative needs to raise $900,000 to make its card a reality.
by Chris Warren
The Occupy Wall Street Movement's first steps into the financial services industry have not been particularly smooth. The announcement this past summer that the Occupy Money Cooperative, an offshoot of the anti-status quo coalition that grabbed the world's attention with its street protests and barbed criticism of banks in the fall of 2011, would attempt to issue a prepaid debit card was an immediate source of fascination.
Yet when the proposed fees associated with the Occupy Card were unveiled in September, an avalanche of criticism quickly followed. Far from being hailed as a savior riding to the rescue of helpless citizens being preyed upon by the big banks, respected observers like Consumer Reports declared that the card's fees were worse than many other products already on the market. "Our first look at those proposed fees shows that the Occupy Card needs some work if its sponsors truly want it to be superior to other prepaid cards," declared the Consumer Reports review.
Nevertheless, the supporters of the Occupy Money Cooperative appear just as determined as ever to not only launch its prepaid debit card but to revolutionize the banking system. According to an article in the Cornell Daily Sun, the student newspaper at Ithaca, New York's Cornell University, university professor Robert Hockett is among those working to make the card a reality.
According to the article by reporter, Helen Donnelly, the Occupy Card will be launched once Hockett and the other co-founders of the Occupy Money Cooperative can raise $900,000 in initial operating capital. The article does not say how close, or far, the group is from reaching that amount.
Despite its bumpy rollout, Cornell's Hockett insists that Occupy's ambitions are still to go well beyond just a prepaid debit card. "The Occupy Money Cooperative is beginning with the debit card. This debit card is a specific counterpart to cards like these that exist in existing banking institutions already offered. Chase Liquid is probably the best-known example," Hockett told the newspaper. "The ultimate plan is to offer all the other services that these existing banking institutions already do, but on a non-profit basis."