Suze Orman Prepaid Card Discontinued June 30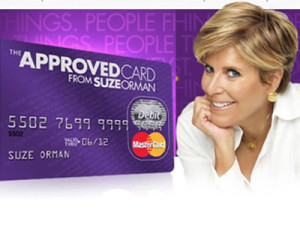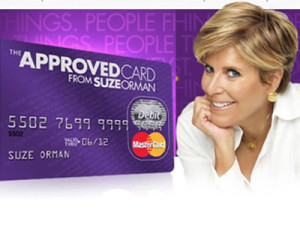 Celebrity financial advisor, Suze Orman, has urged countless people seeking her money guidance to get a grip and not make a purchase when they could not afford it. It's the kind of tough love advice that makes for good entertainment, but it's also not what holders of the Suze Orman prepaid card are being advised to do right now. Instead, customers in possession of the Suze Orman prepaid card are being told to spend, spend, spend.That's because Orman's Approved Card, a partnership with Bancorp Bank that was released in early 2012, is suspending operations on July 1. According to a story in The New York Times, holders of the Approved Card recently received a letter from Bancorp Bank urging them to spend whatever money remained in their accounts – anything not spent would be refunded to them.
The disappearance of the Suze Orman prepaid card, which she reportedly launched with $1 million of her own money, is not an isolated case in the once bustling celebrity prepaid card market. Basketball superstar Magic Johnson's prepaid card will also suspend operations on June 30. Prepaid debit cards backed by the Kardashian sisters, singer Justin Bieber and comedian George Lopez have either been discontinued or are no longer prominently marketing their celebrity backing.
The suspension of Orman's Approved Card is especially illustrative in understanding why the stampede of celebrity prepaid cards seems to be at an end. Unlike the cards offered by the Kardashians – which charged a whopping $100 to just buy the card, along with a host of other big fees – Orman's Approved Card charged relatively modest fees, including a $3 account maintenance charge. But even with a more consumer-friendly offering, the economics of Orman's card clearly didn't pencil out. "You're dealing with a lot of customers who have a lot of things go wrong, and they need their money to put milk and bread on the table," industry consultant Rob Rosenblatt told The New York Times. "Three dollars is a really tough baseline from which to serve customers who are going to be calling a lot."
Another factor driving celebrity prepaid cards out of the market is competition. Large financial services companies like American Express have unveiled ultra low-fee products like Bluebird and Serve. Bluebird, for instance, charges no activation fee and has no monthly account maintenance charge. Fans of Suze Orman, Justin Bieber and Magic Johnson would have to be unusually devoted to pay unnecessary fees.