Reviews of Credit Cards for Military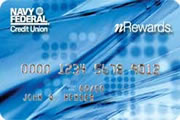 Military members and their families have particular banking and financial needs. For many military members, it's not surprising for military members to relocate or travel frequently, work uncommon or irregular hours, live overseas for long periods of time or maintain multiple addresses during a short time period. All of this can make banking difficult, especially at many traditional banking institutions. This can improve by using a military financial institution. Military and federal credit unions and banks are better at preparing for and accommodating the needs of military families.
If you are a member of the military or a qualifying federal employee or have access to membership via a qualified sponsor, you have some additional options that are not available to the general public. For example, you qualify for USAA membership, one of the leading financial institutions in the country. You also qualify for membership with Pentagon Federal Credit Union or Navy Federal Credit Union, two of the country's largest credit unions. These institutions offer great rates and financial products that are typically competitive to top offers elsewhere, if not better, in many areas. Take a look at some of our top military credit building cards below. For those who qualify, these are some great secured cards that can help you build or rebuild your credit!
If you have "Good" or "Excellent" credit, please check out our Credit Card Deals page or our Low Rate / Balance Transfer Cards page. For a list of our other credit building cards, click here. Please read these credit card reviews for military members.