Celebrity Prepaid Debit Card Smackdown 2013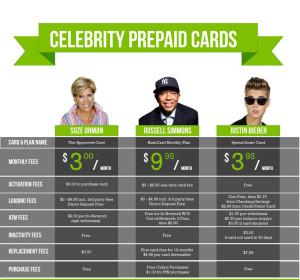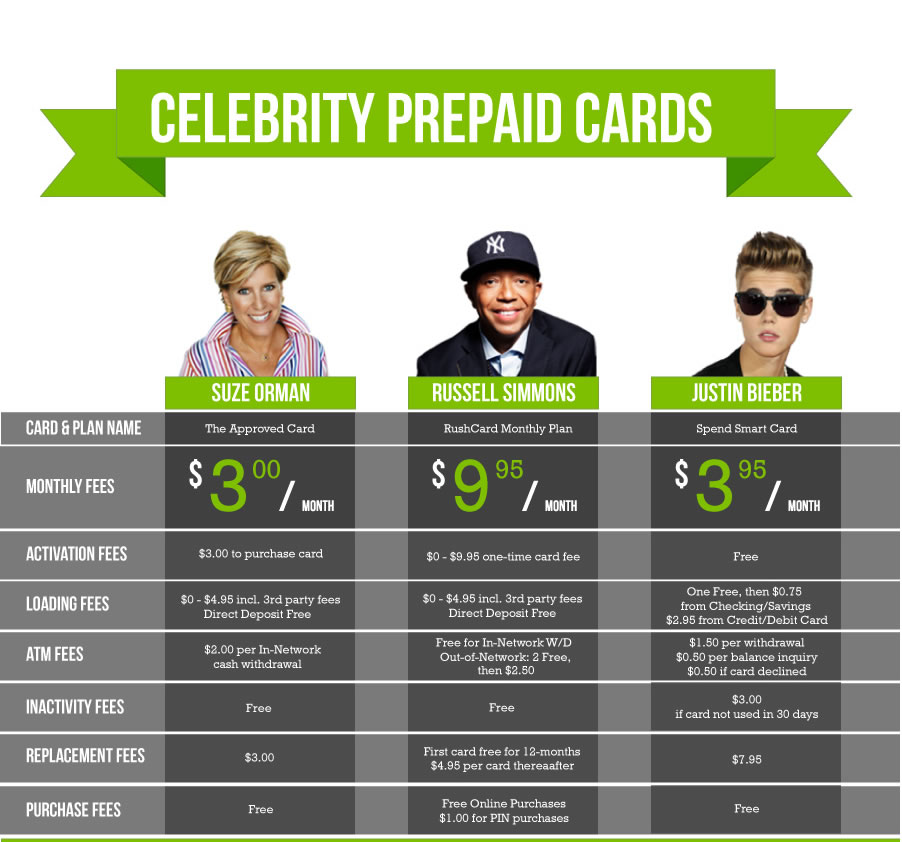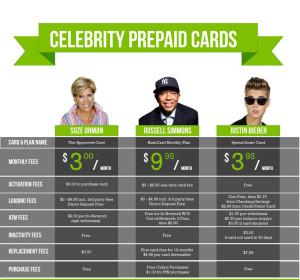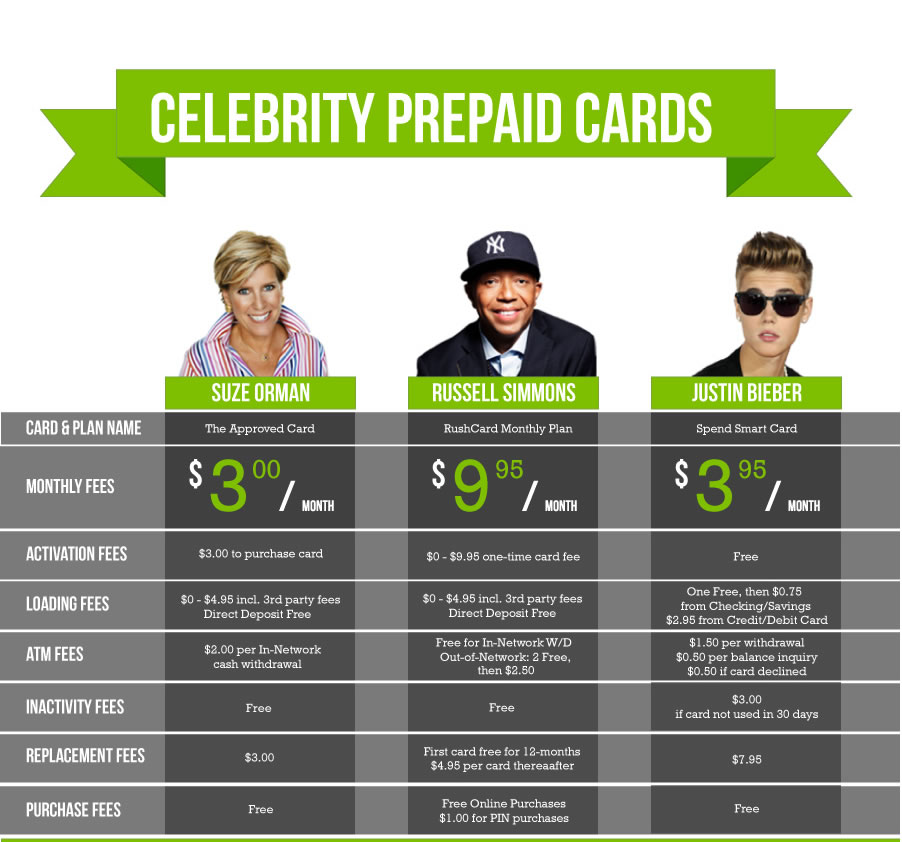 Nobody would argue that hip-hop impresario Russell Simmons is anything but cool. After all, the guy was one of the forces behind Def Jam, the record label that brought us the Beastie Boys and LL Cool J. These days, Simmons is a business magnate whose net worth is estimated to be north of $300 million. And Simmons is looking to add to that sizable fortune by lending his name to a celebrity prepaid debit card called the RushCard. In doing so, Simmons joins personal finance guru Suze Orman and the increasingly notorious singer Justin Bieber in endorsing and promoting celebrity prepaid cards.
An examination of the fees associated with these three celebrity prepaid cards by BestPrepaidDebitCards.com reveals that it can be a pricey proposition to use star-powered plastic, albeit not always more expensive than average prepaid debit card fees. For instance, while Orman and Bieber charge $3.00 and $3.95, respectively, in standard monthly fees, the tab for Simmons' celebrity prepaid card is $9.95 – an amount that is more than $5.00 higher than the average monthly fee. To be fair, there are other Rush card offerings with lower monthly fees and may be found in free monthly fees for the Pay As You Go Plan to $5.95 or $7.95 on the Rush Unlimited Plan depending on your direct deposit status.
In other areas, the fees charged on the celeb-backed cards are comparable, including similar charges for ATM transactions or for putting money into the account (known as loading fees). Consumers should note, however, that although an issuer may not charge a fee to load cash on their card, they may have to utilize third party services which do charge, such as Green Dot MoneyPak or MoneyGram, and fees can range from $3.74 to $4.95.
An alternative product is Bluebird by American Express, which does not offer star-power, but it does offer great features and very low fees. Still, there's no getting around the fact that there's a premium to be paid for associating yourself with a celebrity card. In a hypothetical tally of fees from a month of modest usage of our sample RushCard plan, BestPrepaidDebitCards.com calculated that it would cost a cardholder around $12 per month. Is using a celebrity prepaid card really that cool?
For More Information:
For prepaid card and personal finance news, reviews, commentary and more – check out the Prepaid Debit Cards main page.
For the latest unbiased ratings and reviews – check out our Prepaid Debit Cards reviews.
An Alternative to Traditional Checking Accounts: Bluebird by American Express
Download the easy to print single page PDF.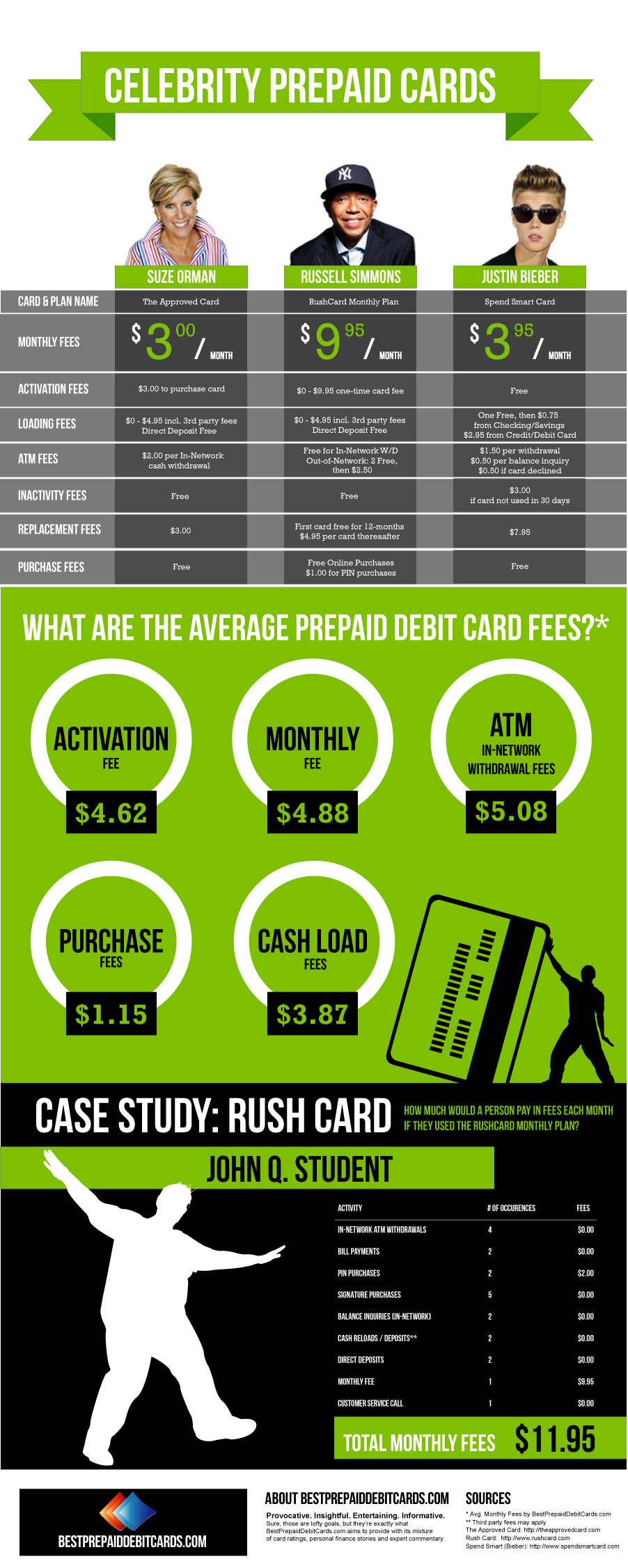 Embed on your site: