Changes To American Express Serve Cards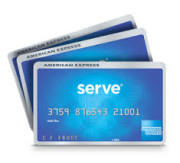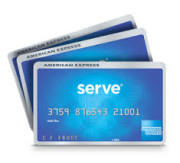 Starting in November, American Express Serve prepaid customers will be able to add cash to their accounts at CVS and 7-Eleven with no fees.
by Shane Tripcony
The competition to serve the millions of Americans lacking traditional bank accounts just got a little stiffer. On October 8, American Express announced significant new changes to how its Serve prepaid card works. Starting in November, Serve customers will be able to load cash to their accounts, for free, while shopping at over 14,000 CVS and 7-Eleven stores nationwide. Additionally, American Express Serve customers will also be able to add funds via direct deposit of a paycheck without incurring a fee. By the end of 2013, customers with a smartphone camera will be able to take a picture of a paper check and add that money directly into their account by using Serve's mobile app.
In making these changes to how the Serve card functions, American Express declared that it was directly targeting the almost 70 million so-called "under banked" Americans. "Unfortunately, the traditional banking system is not easily accessible to large segments of the population, making managing money cumbersome and expensive for many," says Dan Schulman, Group President of Enterprise Growth at American Express. "Today, we've added a number of new features to make the management and movement of money more affordable and convenient for everyone."
In the past, individuals who did not have bank accounts have had to rely on check cashing or payday loan services. Many of which charge exorbitant fees or prepaid debit cards layered with charges for everything from adding money to an account to checking a balance. While there are still plenty of prepaid cards that charge high fees, more and more big financial players like Chase, U.S. Bank and PNC are now offering low-fee options.
The changes American Express has made to its Serve card are meant to address what it sees as the substantial charges that come with simply adding money to an account. Citing research from Javelin Strategy and Research, American Express says that 41 percent of under banked customers report paying between $3.00 and $3.99 to reload their prepaid cards. Depending on how often someone reloads their card, American Express estimates that utilizing Serve, which charges a $1 monthly fee, could save between $72 and $240 annually. The savings could be even greater if a Serve customer opts to use direct deposit or adds at least $500 to an account over the course of a month.
In addition to a variety of fee-free ways to add money to Serve card accounts, American Express also allows customers to withdraw money from MoneyPass ATMs for free as well as pay bills for free using Serve.com and the Serve mobile app.