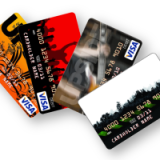 UPside Visa Classic Prepaid Card
Things We Like
It does have a rewards program and it's easy to use.
Things We Dislike
There's no online bill payment feature and there are a lot of fees for loading money onto the card. ATM charges apply for cash withdrawals, so you'll want to get cash back from purchases whenever possible.
PostedOctober 2, 2013 by
Curtis Arnold
To be perfectly blunt, the UPside Prepaid Visa is not all upside. Like pretty much all prepaid debit cards, it has its pros and cons. One of its legitimate and fairly unique pros is a pretty decent rewards program that lets you earn points when you activate your card online or make a purchase at its online mall. If you opt to load your card using direct deposit, you can earn 1,000 points; you only need to earn 2,000 points, which is equal to a $20 credit, to start seeing some benefits.
The biggest con with the UPside Visa is that it has no options for online bill payment, which is fairly rare in the prepaid debit card market. They do try to circumvent this inconvenience with a simple check writing service: You go to their site, designate a payee and an amount and a check gets mailed. Of course, this isn't free. You can write one free check per month and then you have to pay $2.00 for each subsequent check. Another problem: There's a $500 limit per check and you can't write more then four in a month.
Bottom line: The most obvious upside to the UPside Visa Classic Prepaid Card is in its name. Otherwise, the card is behind the rest of the market in the features it offers and is layered with fees. seem to be a bit inconvenient and may also cause usage fees to add up. Also you will pay when you use an ATM so you will want to do the cash back point of sale option whenever possible.