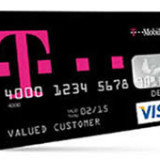 T-Mobile Visa Prepaid Card
Things We Like
The lack of PIN or signature fees is nice as is the lack of in-network ATM charges. This can be a low fee card if you are a T-Mobile customer.
Things We Dislike
Difficult to predict what your annual charges will be if you are not a T-Mobile customer.
PostedFebruary 11, 2014 by
Curtis Arnold
Wireless carrier T-Mobile made a splash when it launched its new prepaid Visa card in January. The T-Mobile Visa Prepaid Card works very similarly to many other prepaid debit cards, but there are some very specific differences. For instance, there's no charge to get a card so long as you pick it up at a T-Mobile store. Purchasing the card elsewhere will cost you $4, though that fee will be refunded within 30 days if you are a T-Mobile customer. Significantly, there is no monthly account maintenance fee or reload fees for T-Mobile customers who add cash at the company's stores. If you reload elsewhere, it will cost between $3.00 and $3.95 (varies by retailer). But for T-Mobile customers even that fee is refunded for reloads of $300 or more. T-Mobile customers also get free international ATM withdrawals and free domestic ATM balance inquiries.
For non T-Mobile customers, there is a fee for reloading, even at T-Mobile locations. But again, that charge is waived for reloads of $300 or more. Also, the monthly fee of  $5 charged to non T-Mobile customers is waived if you load $500 or more on the card during the preceding monthly billing cycle. All of this makes it bit difficult to predict what the annual charges will be for non T-Mobile customers who get the card.
Bottom Line: If you are a T-Mobile customer, the lack of a monthly fee and free cash loading and other perks make this a good product. If you are not a T-Mobile customer, the fees can definitely add up and how they are assessed is confusing enough to warrant skipping it.