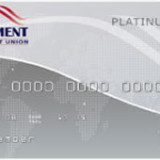 State Department Federal Credit Union (SDFCU) EMV Savings Secured Visa Platinum Card Review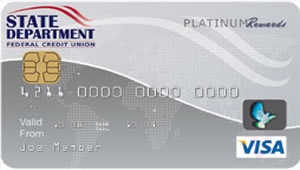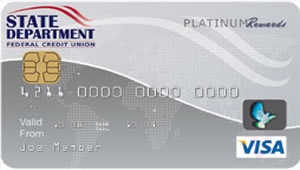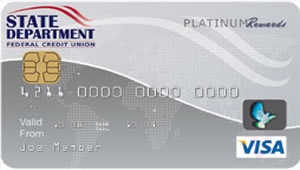 :
Card Reviews
:
Card Reviews, Secured Credit Card Reviews
Things We Like
No annual fee. Super-low 6.99% APR. Offers life insurance and rewards. A great all-around card.
Things We Dislike
You will have to qualify for membership to the credit union to apply, but they have a very open policy and make it easy for anyone to come on board through an affiliated organization.
PostedSeptember 2, 2015 by
Shane Tripcony
The State Department Federal Credit Union (SDFCU) EMV Savings Secured Visa Platinum Credit Card is a fantastic secured credit card.  They offer rates as low as 6.99% APR and no annual fee.  Members get to enjoy these great rates and more as they even offer rewards at a point per dollar in their Flexpoints Rewards Program.  Something becoming more rare these days, you can enjoy transferring a balance without incurring balance transfer fees.  Usually, these fees are around 3%.
The card is already positioned for the new chip card standard which is being found at more and more retailers domestically and has been internationally for years.  It just so happens that the U.S. is a bit late to the EMV chip card party.  EMV stands for Europay, MasterCard, Visa.  Those were the three institutions that started the standard.  But, I digress.
For international travelers, this is a good card as there are no foreign transaction fees.  Some nice consumer convenience features include credit card member alerts to help alert you to any potential fraud and you can easily change your credit card PIN via a short automated teller phone call.  Another really nice feature is that card based term life insurance is available.  They offer guaranteed life insurance admittance up to age 65.  Plan coverage is available from $75,000 to $250,000 and prices start to $19.25 per month.
Rates as low as 6.99% APR*
Secure chip-enabled technology for use overseas
No income verification or credit check required
Limits as low as $250
No foreign transaction fees
No annual fees
No balance transfer fees
Magnetic stripe for ease of use domestically
Point-per-dollar Flexpoints Rewards Program
Membership Eligibility
With credit union cards, you have one extra hoop to jump through that you do not have with bank cards or other card issuers.  You must be eligible for credit union membership.  There is GREAT NEWS here!
According to their website, you may join SDFCU if you are an employee of The Department of State or one of the organizations found here. There are a LOT of organizations listed.  Also, as with most credit unions, family members can invite or qualify other immediate family members for membership.  So, if you do not meet  one of those eligibility requirements, they make it easy through membership in an affiliate organization.  As a consumer, you may be eligible to join the credit union through the American Consumer Council (ACC), a nonprofit advocacy group. For those joining through ACC, you will need to simply  choose ACC on your application.
EMV Chipped Card Information
For more information on EMV security and using EMV chipped cards, click here.
Bottom Line
This is a great card.  They have very open membership eligibility requirements, and you can apply online and soon find yourself with a shiny new secured card with no annual fee and a rate as low as 6.99%.  At the time of this review, this is the lowest rate on a secured card we have seen, especially with no annual fee.
Did you enjoy this article? If so, we'd love to hear your thoughts in the comments below. It would be great if you subscribed to our RSS feed or signed up for email updates to get more goodness. There's lots more where this came from!
Summary
Reviewer
Review Date
Reviewed Item
State Department Federal Credit Union (SDFCU) EMV Visa Platinum Credit Card (Secured Card)
Author Rating