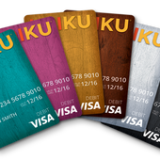 KAIKU Visa Card Review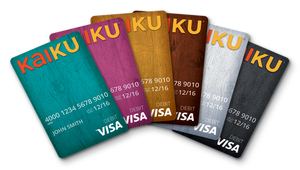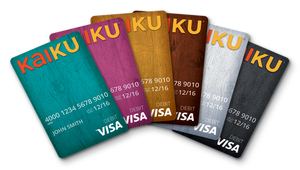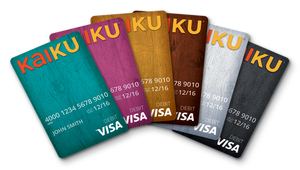 :
:
:
:
:
:
:
:
:
:
:
:
:
:
:
:
:
:
:
:
:
:
:
Card Reviews
:
Card Reviews, Prepaid Debit Card Reviews
Things We Like
This card's fees can be competitive with (or even lower than) those of a traditional checking account. The card is FDIC-insured (funds are held in First California Bank), and it offers the near-universal acceptance of the Visa brand. Fees are generally low, and the fee-free Allpoint network is a huge plus. The fee structure is clear, and mobile features make it easy to keep track of your balance. (You may also call to get your balance -- at no charge.)
Things We Dislike
Without direct deposit, adding funds can become expensive (as is generally true of prepaid cards). While the availability of secondary cards is a big plus, it would be nice -- for purposes such as allowances -- if secondary cardholders did not have access to the entire card balance.
PostedAugust 1, 2017 by
Curtis Arnold
KAIKU Visa Card Review:
The Kaiku card sounds different from other cards, and, in many ways, it works differently, too. Like most others, it offers free direct deposit and mobile banking services. Unlike some, its monthly maintenance fee is inescapable. However, the fee is low ($3.00) and there is NO fee when you load $750 or more and use an in-network ATM, and there is no charge for transactions or in-network ATM withdrawals. The latter is a huge deal: Many prepaid cards levy both a charge for ATM withdrawals plus any surcharge imposed by the ATM owner. You can go online and enter a ZIP code to find the nearest surcharge-free ATMs. They are part of the Allpoint network of 55,000 ATMs and there are mobile apps to help locate Allpoint ATMs as well. (There are fees for out-of-network ATM withdrawals, but not inquiries; even with a modest out-of-network fee of $1.45 (plus the other bank's charge, of course), it pays to stay within the network.)
They offer six designs with no additional charge. Cardholders can select a vertical woodgrain card design that reflects their own personal style: Ninja Black, Grizzly Brown, Unicorn Pink, Shark Bite Teal, Artsy White or Jurassic Amber. Government benefit payments and tax refunds may be loaded directly onto the cards, which are FDIC-insured. Reloading is free with direct deposit; cards may be reloaded at MoneyGram or Visa ReadyLink locations, typically for a fee of $3.95 or more. (It's a good idea to check prices at reload locations near you; they vary.) Reloading can be done by mobile phone using their iOS or Droid app with standard mobile deposit by Ingo Money being free but taking up to 10 days. As part of their mobile deposit, they offer mobile check deposit where you simply snap a picture of your check and load it to your card from anywhere with the Kaiku Mobile App on iOS and Android. Expedited mobile deposits are immediately available from Ingo Money at fees of 1%, 4% depending on check type or a minimum of $5. You can get secondary cards, but be aware that secondary users have access to the entire balance on the card.
This card has 6 options for loading money, including direct deposit, PayPal, bank account, cash, other KAIKU card and from a check. When loading cash value load (retail location) there is a charge that varies from $2.95 – $4.95.
As of November, 2014, KAIKU introduced a new tool called a Funds-O-Meter which is a unique financial tool with no setup or user inputs. It simply tracks your weekly spending and compares it to your average over the past 60 days in fun categories like eating out and entertainment.
Bottom line/ Overall review: This card's network of more than 55,000 fee-free ATMs gives it a leg up on the competition. It also offers the conveniences of most (electronic bill pay, guaranteed acceptance, free direct-deposit), and with low fees. If you live and/or work near Allpoint ATMs, this card is worth considering.

Average Monthly Fees and Costs:
| | | |
| --- | --- | --- |
| $5.95 | | |