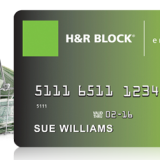 H&R Block Debit Card Review
Things We Like
When you get your taxes prepared at H&R Block, you can put your tax refund or refund anticipation check directly on an Emerald Card and use it everywhere Debit MasterCard® cards are accepted.
Things We Dislike
The lack of a wide network of ATMs offering free withdrawals.
PostedOctober 2, 2013 by
Curtis Arnold
Nobody wants to wait for Uncle Sam to cut a tax refund check. With that in mind, tax prep giant H&R Block offers the H&R Block Emerald Prepaid or Debit MasterCard. The coolest feature is that you can have your tax refund or refund anticipation check deposited directly to an Emerald Card. Although it can take up to 21 days, it can still be a heck of a lot faster than waiting for the federal government to send you your cash.
As appealing as that feature is, Emerald also comes with some hefty fees. Although there is no fee to obtain the card, anyone who needs to withdraw cash frequently from ATMs will be hit hard. Indeed, even in-network (through the Allpoint network) withdrawals run $2.50 per transaction. And out of network withdrawals can be a train wreck: Besides the regular $2.50 fee, ATM owners throw in an additional charge, making the total between $4.00 and $5.50 just to access your own money. Users of Emerald should try to avoid these fees by getting cash back in stores. Also be wary of the $2.50 inactivity fee in case you don't use your card for three months.
Emerald has a number of other features worth noting. There is a cash back rewards program, which kicks in whenever you make purchases at stores like Target, Best Buy and from iTunes. H&R Block also offers mobile text alerts, a free mobile app and free customer service, even if you speak to a live agent. Emerald also doesn't charge a monthly fee, a rare feature in this market
Bottom line: Cash reload fees and ATM fees on this card can add up if you don't plan ahead. However, if you avoid those fees Emerald can be an economical option.