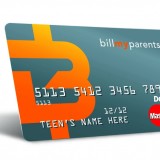 BillMyParents Reloadable Prepaid MasterCard
Things We Like
Positives Coming Soon!
Things We Dislike
Negatives Coming Soon!
PostedOctober 2, 2013 by
Curtis Arnold
BillMyParents bills itself as a teaching tool, and it fills that role well. Parents can get text alerts in real  time whenever the BillMyParents Reloadable Prepaid MasterCard is used, and they are given directions for blocking the card in the alerts (so if the text alert suggests to the parent a conversation with the teen needs to take place before the card is used again, the card can be frozen). The card's use is prohibited at some businesses and websites (bars, massage parlors, adult sites and gambling sites, for example). Fees are straightforward and easy to understand, and funds are FDIC-insured.
The BillMyParents prepaid card is accepted wherever MasterCard is welcome (with the exceptions noted above), and can be useful in teaching teens about money. The site notes that friends and relatives may add to the balance, but this is true of all cards. The blocking feature can be useful to parents, and loading an allowance via automatic transfer is a more convenient way of doling out allowance. The card also offers multiple accounts for multiple children. The card must be loaded via direct deposit, either from a bank account or from a credit card; checks and money orders are not accepted.
This card is can be relatively low-cost candidate for an allowance (loading is free if it is a set-up allowance), and MasterCard branding means it is widely accepted.