Capital One Introduces Credit Monitoring Tool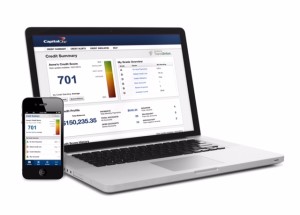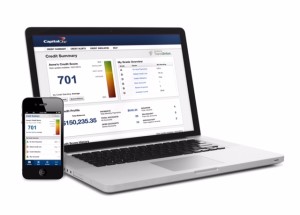 One undeniable product of the recent high-profile data breaches at Target, Neiman Marcus and other retailers is customer skittishness. Worries about the security of personal information stored on credit and debit cards has consumers understandably concerned every time they pull out their plastic to make a purchase. In response, some card issuers are providing tools that – while they don't make the cards themselves any safer – can quickly alert consumers if their account has been compromised.
In February, for instance, Discover announced that it would provide a free FICO score on all its card members' monthly statements. Presumably, an unexplained drop in a FICO score could alert someone that something was amiss. Yesterday Capital One went a good bit further by introducing Credit Tracker, which provides its customers free credit scores, credit bureau alerts and a host of other tools to help people manage and understand their credit.
Credit bureau monitoring, in particular, is meant to address anxiety people have about identity fraud. Capital One customers utilizing Credit Tracker will now receive an alert whenever a new account is opened in their name or if there is a change of address or employment, all of which are indicators of potential identity theft.
While fraud protection is one aspect of Credit Tracker, there are other features that make it easier for customers to manage their credit. A person's credit score plays a large part in determining whether they can get a mortgage or a car loan and, if they qualify, what sort of interest rate they'll be charged. By accessing Credit Tracker via the Capital One mobile app, consumers can not only instantly view their credit score but also see a report card with letter grades on the primary factors that determine that score. Additionally, Credit Tracker allows Capital One customers to run various simulations to see how actions they take will affect their credit score.
The release of Credit Tracker comes in the wake of a Capital One survey that showed that 41 percent of respondents didn't know their credit score. The same survey also revealed that while 85 percent of respondents were worried about credit card fraud only 32 percent utilized a credit monitoring service.
Capital One
Capital
One
Financial Corporation is a U.S.-based bank holding company specializing in credit cards , home loans , auto loan s, bank ing
…