Best Prepaid Debit Cards / Reloadable Cards 2017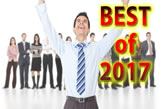 For many families and individual consumers, prepaid debit cards have become an important and flexible tool for paying monthly bills and staying on a strict budget. The following cards can help in that area by helping you stick to your budget while controlling your spending. You can learn what fees accompany the account and are shielded from high overdraft fees. These reloadable debit cards allow you to only spend up to the amount you have pre-deposited in your account. If you would like greater control over your spending or have a tendency to overspend, then a debit card or a prepaid debit card could be just what the doctor ordered.
Ad Disclaimer: The owners of BestPrepaidDebitCards.com do receive compensation from advertisers. Apply Now links can generate revenue for the website.


Reading the Numbers: Below, in addition to the starred ratings, we have summarized an average monthly usage cost based on what we estimate would be common frequent usage metrics. The lower the average monthly cost, the better. Those costs below are based on the following monthly transactions: monthly fee x1; PIN purchase transactions x5; Signature purchase transactions x5; ATM withdrawals in-network x2; cash load on to card x1 and the following annual transactions: customer service calls x2 per year and bank teller cash withdrawals at 2 per year.
If you are planning on using Direct Deposit to load your card's balance, you will probably rarely use cash loads and would see savings of typically between $2-$5 per month.
Navigating the Card Table: Clicking on the More Information button or the card image will take you to our review of that card and more detailed information. Clicking on an Apply Now button will take you to the card-issuer's website where you can apply for the card through their secure form.
Page 1 of 5 Prev 1 2 3 4 5Next

The data and fees for the cards are up-to-date to the best of our knowledge and the average annual costs of ownership are based on our standard usage calculation for all cards. If you are looking to get a card with low fees, we make it easy for you, listing the cards with the lowest fees to the highest on these pages.
For more information on Prepaid Debit Cards, click here.
For information on our advertising policies, click here.

* For additional rates, fees and costs see card issuer's website for detailed pricing and terms.
Prepaid Debit Cards | Prepaid Debit Card News | Best Credit Building Cards | Card News