Best Prepaid Debit Cards.com Announces Our First Ipad Mini Giveaway Winner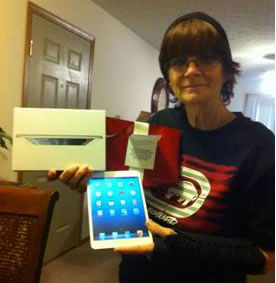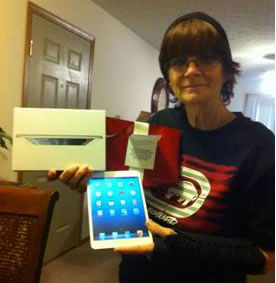 A BIG THANK YOU to everyone who entered our first contest here at Best Prepaid Debit Cards.com!!
Here at Best Prepaid Debit Cards.com, we are impacting lives!
We are happy to introduce our lucky winner of our first Ipad Mini giveaway.
A big congratulations goes out to: Linda Tollison of Ozark, Missouri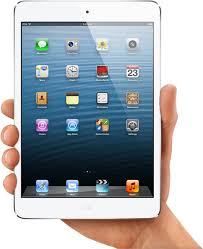 She is the lucky winner of a new Ipad Mini!
Below is a quote from an email we received from Linda.  We were very excited to have the opportunity to give the Ipad Mini away on behalf of BestPrepaidDebitCards.com, and we are all so very happy for her.  
"This is Linda Tollison, and I still can't believe it. I just received my brand new mini Ipad. I am so excited and happy. I have never won anything in my life. I am the happiest old lady in this world right now."
A big thank you to everyone for participating in our first BestPrepaidDebitCards.com giveaway, and all of us at BestPrepaidDebitCards.com are wishing everyone the best as we head into the holiday season and look forward to our next giveaway.
Check back for announcements on our next giveaway – we have another giveaway planned before the end of the year, and we hope to help Santa make someone else happy around the holidays!
Thanks for visiting the Best Prepaid Debit Cards.com website, and please "Like" our page on Facebook at:
https://www.facebook.com/bestprepaiddebitcard
All the best,
Curtis, Shane and all the rest of the Best Prepaid Debit Cards.com team