Approved Card From Suze Orman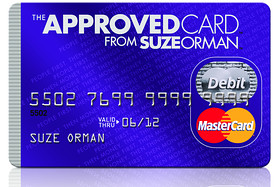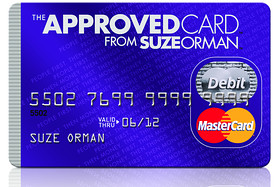 If you find yourself among the unbanked or under-banked a prepaid debit card may be the checking account alternative you are looking for. Suze Orman has recently launched her Approved Card – a prepaid debit card that is supposed to be better than the competition. But is it really? Does it have low or no fees?
Suze Orman says about the Approved Card, "It's the single most important thing I've done in my whole career."
She says it's a better way to bank.
It is safer than cash, comes with no credit checks, no check cashing fees, no bank account required, no overdraft fees, no interest charges and it is easy to load and use.
The Appoved Card (http://www.theapprovedcard.com) also comes with free identity theft protection, free Transunion credit reports, credit scores and credit monitoring. These features are not seen on many of the best prepaid debit cards. You can expect to see services like this included because Suze Orman is a big proponent of keeping an eye on your credit report and score.
So let's talk about getting this prepaid debit card's fees. You will have to pay $3 to purchase it. This fee is lower than most other prepaid debit cards. And then you have a $3 monthly account maintenance fee with the first month waived. Compare this to other cards which can run from no cost per month all the way to $9.95 a month.
You can get free ATM withdrawals at over 35,000 Allpoint locations for the following 30 days you make a Direct Deposit of $20 or more. You can find these ATMs at places like 7-Eleven, CVS, Costco, Kroger, Target and Walgreens. Otherwise you will have to pay a $2.00 fee.
You also get free online bill pay and a free additional card along with no activation fee.
You do not have to pay a fee to purchase with a signature or PIN transaction.
You also get one free live customer service agent call per month and $2.00 per call after that.
If you like to receive a paper statement that will cost you $2.00 per statement.
When you check out the fee chart you will see that most of the fees can be waived for a 30 day period after you Direct Deposit $20 or more.
So who is the Approved Card by Suze Orman for? People who do not want to use a secured credit card, people who cannot get approved for a checking account due to bad credit, and people who will deposit less than $1,000 each month through Direct Deposit.
It's not the best prepaid debit card but it is also not the worst prepaid debit card.
For more from this author visit:  Tameka Riley's Author Page