AccountNow Gold Visa Prepaid Debit Card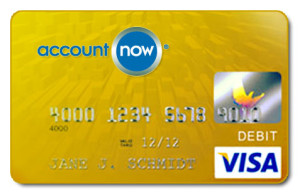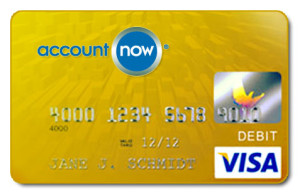 Nowadays very many people are more warmed up to the idea of prepaid services. One type of prepaid service that has gained wide usage is prepaid debit cards. These cards are replacing the traditional credit cards. If you are looking for a better way to manage your money then you should consider applying for the AccountNow.com Gold Visa Prepaid Debit Card. This prepaid debit card is licensed by Visa USA. This card allows you to load cash online; you can login at www.accountnow.com or through direct deposit.
This prepaid debit card is associated with numerous benefits. The first and very important benefit offered by AccountNow.com is that you can never use more money than you have. It has been said that you should bite only what you can swallow. Many individuals and families have found themselves in very compromising situations when they accumulate very large amounts of debts through the use of credit cards. The AccountNow prepaid debit card will save you from such kind of situations and embarrassments since you can only spend what you have loaded.
The card goes ahead and ensures that you can use it anywhere that Visa debit cards are accepted. This is unlike other types of cards that can only be used in specific places. This means even when you travel, may it be from one side of the globe to the other you can make your purchases. Furthermore, you can use the prepaid card just like a debit card in ATMs and withdraw money for a very small fee. This does not mean the security of the card is compromised. Rather the card has very secure fraud liability protection just like the conventional credit cards issued by Visa.
The AccountNow.com prepaid debit card allows you to make various online transactions including shopping, renting a car and booking airline tickets. You can also pay your bills online. For those receiving benefit or pay checks, they can be directly remitted to your account saving you the hustle of having to cash checks and the fees associated with them. You will also get free direct deposits and can qualify for a $25 direct deposit bonus within 6 months after opening the account if you deposit at least $500 per month through the recurring deposit in two or more consecutive months
When you want to apply for the AccountNow.com prepaid debit card, you are not required to pay any fee. The subscription process is free and very efficient since it is not long. Once you open your account, you will be charged a $9.95 the first time you deposit your money. However, there is no minimum balance for this account. Each time you make an ATM withdrawal you will be a charged $2.50 fee. Every month you will be charged a $9.95 usage fee but you can be exempted from this fee if you deposit $3000 dollars or more into your account in a month. The account does not charge the annual percentage fees. Just like other prepaid cards, the AccountNow card does not require a credit check thus you can open the account regardless of your credit score.
The AccountNow Gold Visa Prepaid Debit Card is not the best prepaid debit card on the market and there are cheaper debit cards with lower fees out there.
For more from this author visit:  Tameka Riley's Author Page